Geopolitics
15,000 guard troops to leave D.C. (10,600 to remain)
Summary
From Arkansas Democrat-Gazette: WASHINGTON — After President Joe Biden's inauguration went off with only a handful of minor arrests and incidents, more than 15,000 National Guard members are preparing to leave Washington, D.C., and head home. The National Guard Bureau […]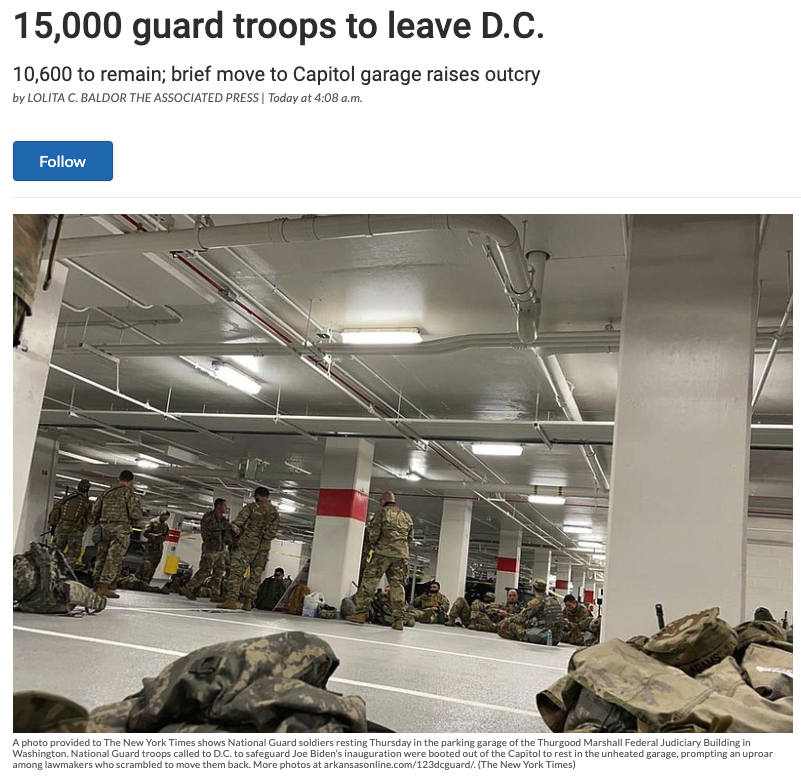 From Arkansas Democrat-Gazette:
WASHINGTON — After President Joe Biden's inauguration went off with only a handful of minor arrests and incidents, more than 15,000 National Guard members are preparing to leave Washington, D.C., and head home.

The National Guard Bureau said Thursday that of the nearly 26,000 guard troops deployed to D.C. for the inaugural, just 10,600 remain on duty. The bureau said the guard is helping states with coordination and logistics so the troops can get home.

Meanwhile, The Washington Post and Politico reported that hundreds of guard troops were ordered out of areas of the Capitol they had been using for rest breaks and were relocated to a nearby parking garage Thursday. Photos of the troops in the garage drew outrage from lawmakers.